Traffic Rules
MVMPCS is required by the City of Frederick to adhere to the following traffic flow. 
Please take note of this traffic flow and notify anyone picking up or dropping off students.
** Right turns are STRICTLY PROHIBITED onto Evergreen Place from Elm Street **
For our safety and to assure that routine traffic can pass through, MVMPCS traffic is prohibited from blocking any part of Dill Avenue.
Evergreen Place and Dill Avenue are active streets and many neighbors have parking spaces abutting the road. Please be courteous and allow neighbors to enter/exit their spots if needed.
Read full procedure guidelines below
To use the drop-off/ pick-up carline, please follow the procedure for your eldest child.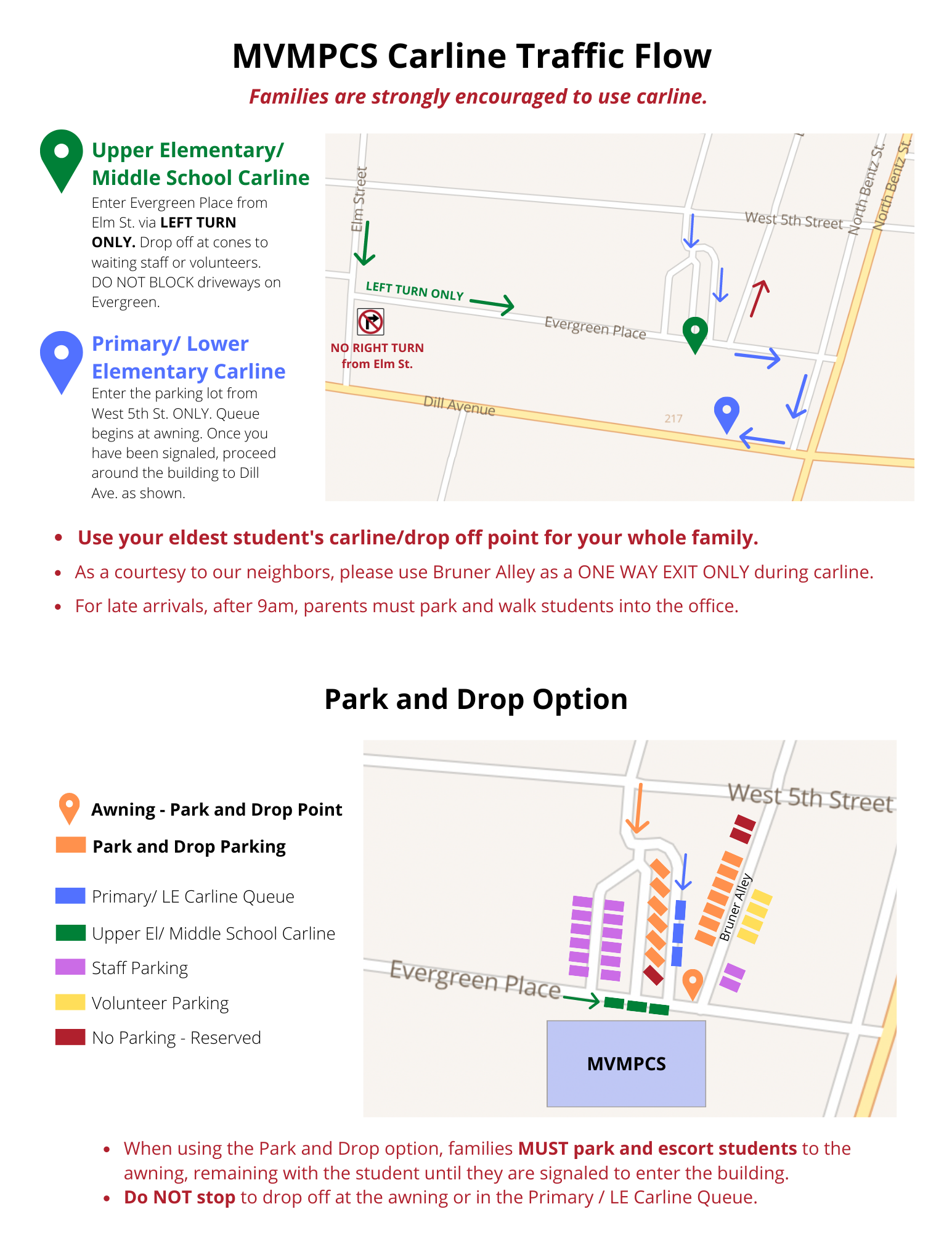 Carline Instructions for Upper El and Middle School (oldest child)
Understand the Procedures Section details below
Drivers are required to enter from 5th Street
Turn left on Elm Street,
Turn left on Evergreen Place
Show your Pick-up Card / have it prominently displayed
Carline Instructions for Primary and Lower El (oldest child)
Understand the Procedures Section details below
Drivers are required to enter from 5th Street
Turn left into the parking lot
Pull into temporary parking to wait to be called to drop off/pick up
Turn right onto N. Bentz St. (residential one way)
Turn right onto Dill Ave.
Park in designated spots in front of the school
Show your Pick-up Card / have it prominently displayed
Preschool Pick-up
Parents / Guardians are to enter the parking lot from 5th street
Park your car and take your Pick-Up Card to awning when called (do not block the alley to traffic)
Students will be called by the awning attendant
Carefully exit the parking lot when it is safe